Agile Training Courses
It's about the 'Mindset – Being Agile' and 'Engineering Practices – Doing Agile'
Unlock Your Team's Potential With Agile Training
When your project or product management, software development, marketing, support or delivery team is not performing as it should, productivity is not where it needs to be and your budget is being eaten up, it's time to introduce the Agile principles into your company's operation. That's because it allows people from product owners to executive staff to look at how processes, technology and connectivity can be brought together to find the optimum way to get a task completed and overall competency improved all around.
Agile training takes the shackles off of your team members and it does so by incorporating new ways of business analysis and working that allow your team to keep pace and be adaptive to uncertainty and continue to hit the highest of heights. It's all about working out ways of overcoming real-world challenges by using everything that's available to you. And this is what forms Agile Leadership amongst teams.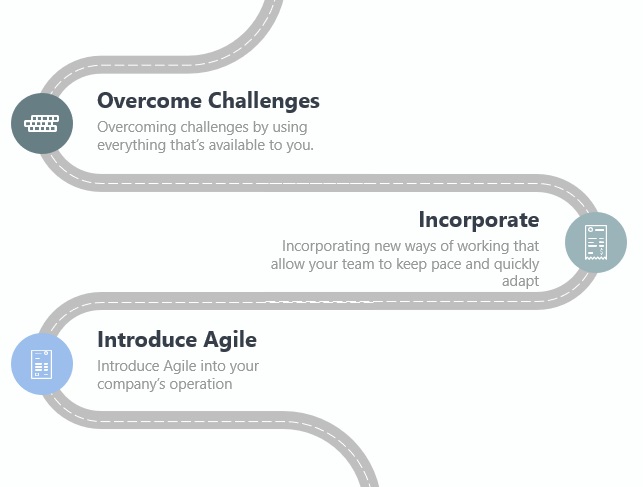 How Agile Is Your Organisation?
Would you say that you have Agile teams? Truly Agile teams work consistently with Agile practices to improve productivity, performance and business outcomes. Agile teams work in a safe environment where they feel able to share thoughts and questions and take risks. They work in iterations with a mindset of continual development. The team culture is founded on the values of commitment, respect, openness, courage and focus which underpins agile ways of working. There's so much more to being an Agile team than just having a daily stand up meeting.
If you want to develop a more Agile environment within your business, we're here to help with appropriate Agile training. Schedule a Consultation and view our accredited agile training course options including Scrum training and Kanban.
What Is Agile Training?
In Agile training, you have a way to improve the performance of projects through the training of the basic tenets of the Agile approach. These disciplines are taught so that your organisation or team understands what it means and how it's implemented. Lots of people talk about 'being Agile', however there are quite a few misconceptions out there about the precise meaning of the word and how the agile fundamentals work.
Agile training seeks to clarify the situation by providing clear guidance about the differences between the many methods of implementation. And when all of your traditional project team's members have attended the same training, it can really get everyone on the same page and reduce these issues greatly. Leadership Tribe can help answer all your agile FAQs with various practitioner courses and examples.
The 4 Principles of Agile Methodology
As well as aligning your team's efforts into one cohesive unit, Agile training also provides them with a grounding in the foundation of the principles of Agile methodology. These principles are the four cornerstones of the Agile concept and they include:
Individuals and interactions over processes and tools
Responding to change over following a plan
Working software over comprehensive documentation
Customer collaboration over contract negotiation

It's these agile methods and processes that create the framework required for your team to recognise the importance of Agile and become a single cohesive unit able to react and excel, making a successful project out of whatever gets thrown at your business. It spans disciplines from product development to marketing, software engineering and devops to project and product management.
Why Have Agile Training? Overcoming Common Misconceptions
If you want your team to be able to make the most of opportunities and instinctively work to agile principles and focus on both high quality performance and outcomes, then agile training meets your needs. Whilst the technological infrastructure also needs to be in place, your team needs to know how to use it to get the most out of it.
With your entire team getting the same, unified message about Agile as a concept and how it's implemented, then there is an established, common perspective. This joint understanding of agile, from agile project managers to execs and business analysts, significantly improves the chances of your team adapting together and mitigating future issues. They will learn to work in an adaptive and hands-on way, considering iterative developments according to the real-world scenarios they face and the user experiences they uncover and user stories that they hear.
Essentially, the goal of working with Agile is to end up with a more efficient, effective and responsive organisation that's staffed by motivated, innovative, informed individuals and teams. By attending agile training (be it online or in person) you take a big step to realising these ambitions.
Some of the Wonderful Organisations We Work With

Prepare Your Team for Success with Agile Training
So, if you're serious about creating a scaled Agile framework within your company and you want to provide a consistent message to your teams from stakeholders to execs on about how it's going to be achieved, we recommend enrolling in Agile training today. Having a team that's all pulling in the same direction is the only surefire way of achieving the success all businesses crave.
How long is agile training?
Agile training can take as little as one day. Agile project management training runs from a one day course to a programme spanning a few weeks, spanning advanced and foundation courses. There are two-day online courses and one day courses in certified scrum master training, Kanban, Agile scrum, Scrum master certification, Agile training and more.
For more information on Agile development course details and how to enrol learners in agile training courses and for agile certification, provide your details below. We'll be more than happy to talk you through your options.
There has never been a better time to adopt Agile practices and all the benefits that come with it. Our experienced, accredited, professional training facilitators will equip your learners with a better understanding of agile and how it can impact your business.
Learn more about getting an agile project management or agilepm foundation, agile coaching, , becoming a professional scrum master, scrum product owner or certified agilepm practitioner by Scheduling a Consultation with us today.
​
How can Leadership Tribe help you?
Find out how we can help create more value for your team leaders and members with our agile courses and contact us today.