Neuro Linguistic Programming
Furnished with the techniques needed to model exceptional performance, Leadership Tribe provides an online course to various types of certifications and accreditations, this one focuses on NLP certification training and the overall learning experience from this metholodology.
Neuro Linguistic Programming Courses
Neuro linguistic programming or 'NLP' is the science of self-awareness and personal growth, understanding people's mental health, how people organize their own life's feelings, their thinking, their own pace and type behavior along with their language patterns. Neuro linguistic programming furnishes a person with the techniques needed to model exceptional performances achieved by thought leaders in business.
As well as having many applications in day-to-day life, learning NLP can also be used for personal development purposes in the business sphere. One of the key NLP techniques involves the formation of new skills such as internal mind-maps of the world that are based on how humans perceive information that is picked up by the five senses of sight, smell, touch, hearing and taste.
Simply put, NLP treats the human mind as an operating system which can be programmed by an NLP practitioner. It allows you to learn the language of the mind to not only be accredited in NLP skills, but more importantly to enable personal development in all areas of life (and life coaching overall). And on a Neuro Linguistic Programming course with Leadership Tribe, that's exactly what you get.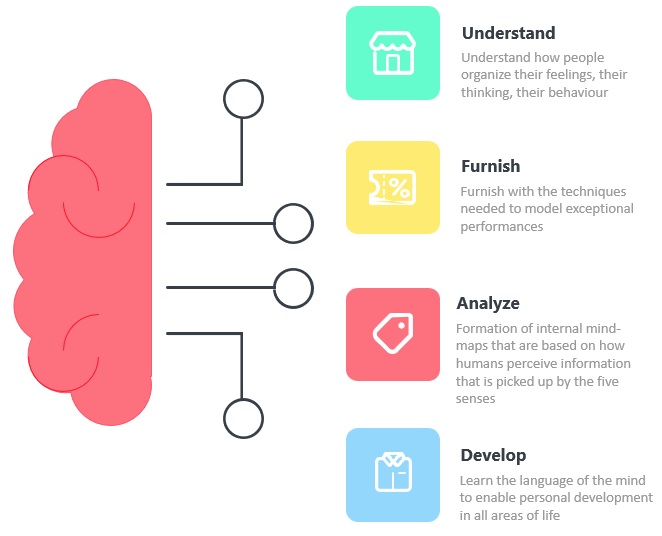 A Neuro Linguistic Programming Course for Business Success
NLP practitioner training and practitioner courses comes in all shapes and sizes, whether it be an NLP coach, an NLP trainer or an NLP master practitioner and the Neuro Linguistic Programming courses that we provide allow you to climb the ladder to the very top.
Let's take a look at how NLP breaks down…
Neuro refers to the fact that every person has their own unique internal methods for filtering the millions of data bits that our senses absorb each and every day. The mental map that we create for ourselves is made up of internal sensations, smells, tactile awareness, tastes, images and sounds.
When dealing with this initial phase of NLP, the mental map created forms part of the 'First Access' part of the process.
Linguistic relates to the mind's process of assigning personal meaning to the vast amounts of information we take in during our waking hours. Our second mind map is created when language is assigned to the sights, smells, sounds, tastes and feelings that fill our consciousness. This second part is referred to as 'Linguistic representation' and is an integral part of communication skills overall.
Programming – The programming phase of NLP is the final part and it deals with the behavioral responses that happen when the subsequent mind map is applied during everyday situations in life and in business. By being a master of NLP, you'll see the world and the people in it in a very different way.
The Benefits of an NLP Master Practitioner in Your Ranks
As we've already mentioned, NLP has applications in all walks of life, with a particular focus on the world of business. With an NLP practitioner or NLP master practitioner in your ranks, your organisation will be able to:

Some of the Wonderful Organisations We Work With

Book Your Leadership Tribe's NLP Courses Today
At Leadership Tribe, we offer a comprehensive range of Neuro Linguistic Programming courses online that help your organisation's leaders to accelerate their personal development and use what they learn to drive your business forwards. We have a proven track record for success in this field and we're just a phone call away.
We have a commitment to empowering our clients to be the best version of themselves for their own benefit and for that of their organisation. Check out our online NLP training courses and call us today to book your place, because if you don't, your competitors will!
Success and failure can rest on fine margins and by taking these certificate courses and becoming a certified NLP, you very much tip the balance in your favour.
How we can help you?
Our services revolve around you, tell us what you need and together we will make it happen, developing your agile team and agile leadership with Leadership Tribe.