Design Thinking Training
Making learning & changes, long-lasting with our design thinking course
Design Thinking Methodology Training
To those new to the concept, the design thinking approach is a problem solving methodology combined with creative solutions to human-centered design. Innovation is achieved whilst integrating the needs of everyone involved (from users to customer needs to stakeholder goals), the technological possibilities that exist and the requirements that lead to business success.
By using our design thinking methodology training, you will learn how to take a pragmatic approach that involves promoting innovation and creativity – those vital ingredients that allow complex business problems to be solved. Learn this and you'll know to apply principles of design to create innovative ideas and products that your users will love.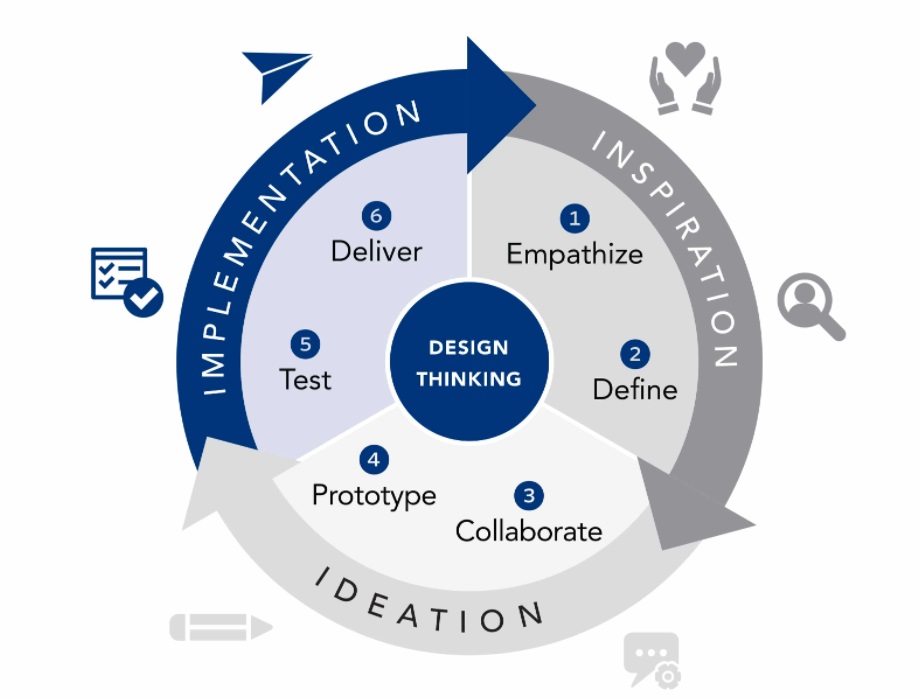 Design Thinking & Innovation Training for Execs
Like our popular Agile Training courses, the design thinking process training we provide is designed to meet the needs of busy executives and once complete, those who take our course can then integrate their learning experience at their place of work. It teaches how to innovate on the job so that your short and long-term objectives are achieved with creative problem solving.
The program we offer can be also be taken remotely or in-person and the Design Thinking & Innovation certificate of completion is awarded to everyone who successfully completes it. When returning to your business fold, you'll be the innovation leading executive that your company needs whether solving complex problems, or working with a team of eager entrepreneurs and industry experts.
What You'll Learn on Our Design Thinking Methodology Course
When you take our Design Thinking Process training, you'll gain a comprehensive understanding of how to gain a competitive advantage with design thinking. We equip you to be the design innovation thought leader in your company by providing: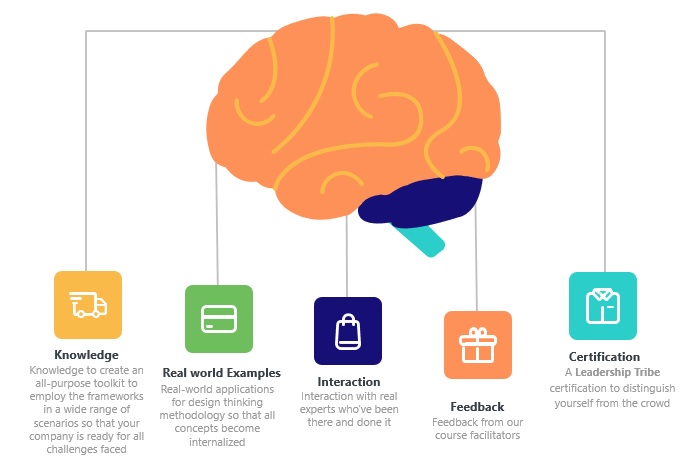 The Curriculum of Our Design Thinking Methodology Training
When any company executive takes our design thinking training, they get a complete overview of the design thinking process. They also gain an understanding of the needs of the user by taking part in empathetic discussions and the rapid testing and creation of prototypes.
The curriculum of our design thinking certificate course includes an understanding of:
The user needs finding process
Innovative solutions from Human-centered Design
Ideation: How to create an effective ideas process
Empathize: Empathy building & interviewing techniques
The definition of a point of view
Comprehending insights & observations
Fundamentals and Minimal viable products
The development & testing of prototypes / modules 
The definition & testing of business cases & models
Upon enrollment and completion of our design thinking methodology training, the participant will gain a design thinking and brainstorming mindset that can be translated into real-world applications to drive innovation within your organization. Our course offers the kind of competitive advantage that simply can't be ignored. View our testimonials and case studies to find out more about how our design thinking programs worked for various teams.
Some of the Wonderful Organisations We Work With

Leadership Tribe Training for a Smarter Design Thinking Approach
So, if you would like to drive your company's innovative capability forwards, we recommend enrolling on our design thinking methodology training today. We have a proven track record for achieving the very best outcomes for our course attendees and your organization could be the next beneficiary of our training certificate programs.
The modern marketplace is as competitive now as it has ever been, so competitive advantage is not something that should be dismissed and that's what our interactive online course provides. The ability to innovate and create products that really sell is the key to commercial success.
You can find out everything you need to know about what we do by taking a good look around our website. We are committed to providing you and your employees with the training you need to make your business projects fly! We very much look forward to taking your call and helping you take a significant step to innovation.