Are you ready to apply new technologies to all areas of your business? Digital Transformation (DX) can help you create a new business model able to efficiently exploit the latest digital technologies and radically change how you operate and deliver value to your customers.
And DX is also a radical cultural change for your business, requiring executives and staff to continually interrogate the status quo, to identify aspects of the existing business strategy that need to change — and even to risk failure in the process of achieving that change. The framework for this radical change must be supported and implemented through constant collaboration of the Board and CEO, business leaders, middle management, and DX implementation teams.
Sustainability and scalability may be included in your list of first concerns. Among the many digital transformation consulting firms, four frameworks (BCG, Capgemini-2018, EY, and The Digital Capability Model) accentuate sustainability, and four frameworks (DXC, McKinsey, MIT, PWC) stress scalability.
Digital transformation strategy
You may have heard DX described as digital transformation strategy, digital business transformation, digital industrial transformation framework, digital maturity model, customer experience transformation, or digital transformation strategy roadmap. These terms and others are largely interchangeable, and all are rooted in the Digital Transformation Framework, the roadmap to a successful digital transformation of your business.
The aim of DX is to create or hone a new business model by moving your company from analog to digital data collection, organization, and transaction processing. New and continually improving technologies in data science, cloud computing, and artificial intelligence enable a business to improve insights gleaned from data and lead to more sound decisions and forecasts, as well as a better real-time customer experience with effective digital marketing.
But know, too, that DX comes with a high degree of failure. Less than 30% of companies succeed when digital change meets workplace resistance. DX may have the executive team's support, but the rest of the organization may require attentive coaching in order to embrace digital change. As part of evaluation and coaching, any inadequate or missing skills within your teams should be assessed and repaired.
Because digital change effects every aspect of a business the Board, CEO, and leadership team set the tone and provide tools for the digital journey to all levels of the organization. Know that everything will constantly and digitally change. This may sound as though the digital aspect is the most important transformation goal, but keep in mind that any organization's digital transformation is really about transforming the capacities and perceptions of the people who make up your organization. Your employees will use the technology to accomplish your business goals.
Both adaptable and precise, a sound digital transformation framework is an essential strategic tool. Support that strategy and pay attention to the response of your teams.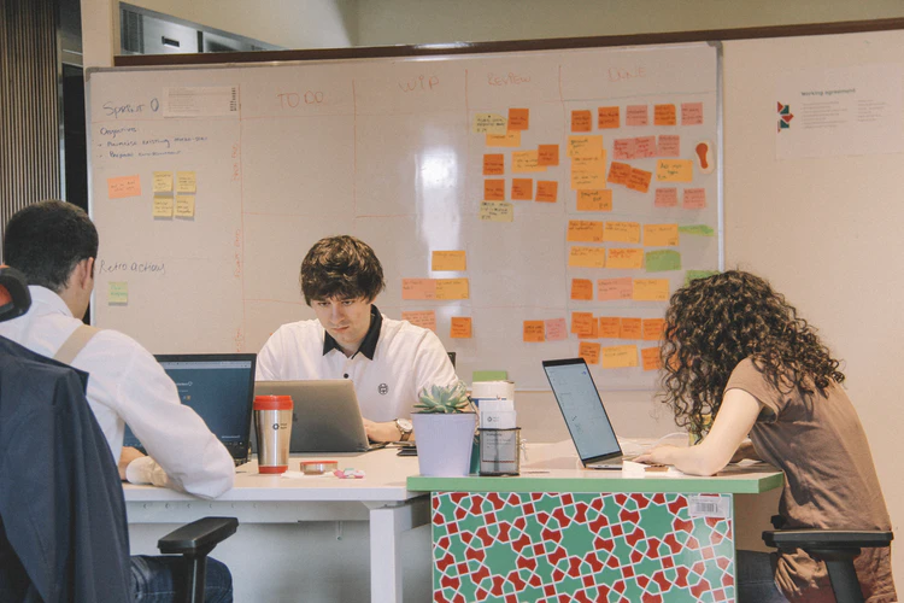 Operating models
Digital initiatives usually focus on the ways a company delivers products and services to its customers, and the COVID-19 pandemic has pushed many organizations to accelerate their digital transformation plans. Digital innovation and business disruption have increased as the office space has expanded to include managers and employees at home. Making full use of digital technology, the adaptive strength of the DX model is ready for this newest iteration of business-as-usual, integrating social media, meeting platforms, and cloud computing tools.
Effective DX models include several must-haves:
Digital-centric leadership which sets out board, investor, and stakeholder expectations
Digital strategy that includes shared vision, adequate budget and funds, and a DX roadmap
Digital design and a business model
Customer-centric management, including engagement, interaction, and customer experience
Digital capabilities for People: enhance skills, talents, and team agility with rewards, coaches, and mentors
Digital capabilities for Business: enhance agility, analytics and insights as you achieve operational excellence
Digital optimization capacity: intelligent automation, core processes, and an operating model
Transformation management: agile change strategy, methodology, prioritization, assessment and tracking tools, OKR (objective and key results), and gaps management
Digital tech capabilities: Social media, mobile apps, and IoT (Internet of Things)
More digital tech capabilities: Big Data and analytics, artificial intelligence, robotics and RPA (robotic process automation), machine learning, blockchain, and 5G.
You'll want a digitized business model and a workplace culture with the capacity to empower the talent within your business. Collaborative leadership will foster an innovative culture able to focus upon producing customer-centric products and enhance both value and customer experience. There are many DX models and frameworks available, but most are digital maturity models that assess an organization's digital sophistication, right now. If you're not sure you have any — digital sophistication, that is — your stakeholders and decision-making entities should identify goals for and demonstrate the value delivered by the company's selected transformation projects. Pick the right first digital transformation project and it will be the quick-win catalyst for the next.
With a strategy for the digital transformation journey and a clearly understood transformation process your business can make changes efficiently, maintain or improve profitability, and deliver increased value. With a targeted plan for your digital transformation efforts the short-term initiatives will help fund subsequent long-term initiatives. From the start, digital technology will be able to monitor key performance indicators on customer insights into new products and business process effectiveness. These improved analytic tools will provide better insight into your business and improve decision-making and direct workflows. To increase customer interaction and collaboration, you'll have at hand information and analytics to reshape customer value propositions and, using digital technologies, transform operating models, the user experience, and customer expectations.
Learn more about digital transformation with our Agile Training & Scrum Training with online courses from Leadership Tribe today.