"Thriving in today's marketplace frequently depends on transforming to become more agile"- Scott M. Graffius
Most organizations are thriving and surviving in the digital era by transitioning towards agile methodology from traditional methods. Adopting agile transitions are gaining improvements and substantiative performance, leading to profitability, improved growth, employee engagement and ultimately customer satisfaction. However, many companies claim they are running an agile work environment, but many struggles to take the agile manifesto by heart.
If you've ever studied the agile manifesto or got the coaching of agile transitions, you'll be probably no surprised that this working style can be a challenge.  This manifesto is the disrupter of the traditional status quo which can be uncomfortable for many people. Therefore, many organizations fail to see the kind of results agile promises to deliver, only if properly implemented.
Let's take an example of Agile transitioning in a well known organizational structure.
The Dutch banking group, ING in 2015, decided to shift from traditional methodology to the Agile Model inspired by the giant market leaders Netflix, Google and Spotify. Fortunately, the ING's new approach boosted their employee engagement, marketing and increased their work progress, clearing out backlogs of tasks and overdue initiatives.
To truly adopt an Agile environment, it takes willingness and commitment to let go of all the conventional method of doing things in the organization. The agile transformation is not just about some fancy jargons and new meeting styles; it's a whole way of business transformation.
After seeing this example, you may immediately want to know how Agile transition works and how you can shift from the waterfall to agile transformation. But before building that agile transformation roadmap, you must know what it is.
What is Agile Transition?
The agile transition is the transforming act of an organization's nature or forms progressively to the one that can thrive and embrace a collaborative, self-motivated and flexible fast-paced environment. The agile manifesto principles and values can be exercised and taught in any organization, with agile teams whether small or large. However, the organization needs to understand the agile framework basics and values to get healthy and true agility rewards.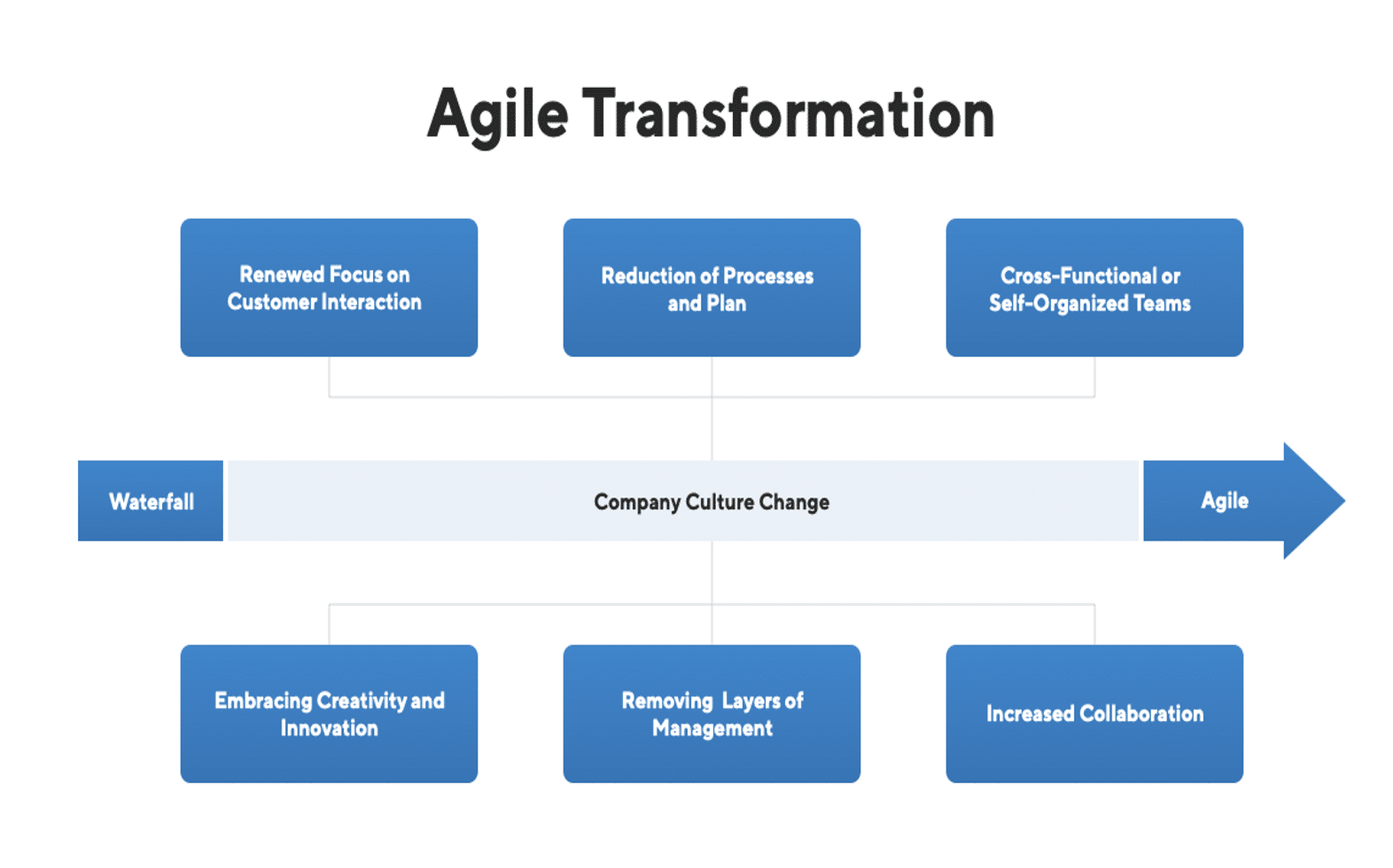 How Does an Agile Transition Work?
The agile transition process begins by setting goals, designing a leadership team and forming an agile transformation road map for the team as a manager. The organizations create the check-ins of progress periodically contrary to the planned roadmap. Then, crucial adjustments/changes are made to keep the project on track while keeping it realistic with these cross-functional teams.
To make the agile methodology work, the organizations running on the bureaucracy, waterfall development, or silo management system must embrace the agile transformation roadmap. Employees will need coaching agile transitions to make the most out of it. This requires empowering the employees to work autonomously and make independent decisions while educating them on rewarding and evaluating the staff in this new business paradigm. Also, new processes should be established, and new tools must be adopted to facilitate the new work patterns. Each leadership team and employee may need training, ownership and distribution throughout the agile process.
Successful Ways to Transact from Waterfall to Agile
·      Communicate Regularly
When you move to agile strategies such as scrum training and workflow management methods like Kanban, the teams need to communicate daily. It remains a crucial part of the testing and development activities for agile coaches and teams. Placing everyone together in a single location on the team progress will help the managers/leaders understand where the pain points are developing and substitute an environment that makes the best solution according to such issues. In such a growing environment, it's also vital to be ready for any potential changes. By developing a clear line of knowledge, the sharing team will keep up with the aid in the project completion and adjustment.
·      Strengthen the mutual Vision for a Successful Agile Transformation
Most organizations are good at making operational and financial goals, but such goals only motivate the upper management goals or product owners rather than the organization's average worker. To boost the mutual vision and develop an agile organization, the company needs to reestablish the key performance indicator (KPI) metrics and connect everyone with a more profound sense of purpose. Customers and employees are the heart of any business, so step away from the financial projections and charts and ask how your service/product contributes to the world? What would your company's success mean for employees and customers?  What will it mean to you in retrospective.
·      Train Staff on the Agile Rollout
Bringing new practices and ideas to the work members could be a disaster recipe. Many professionals are likely to be accustomed to shifting and working to agile practices without guidance, which fails. To perfectly implement the agile concept in an organization, training sessions should be conducted. Also, organizations can look into the institutions that help the teams understand agile through different resources like blogs, seminars and books.
·      Encourage Collaboration Amongst Team Members
There is no template overall, but agile transition's essence is collaboration across each individual team. By communicating effectively and collaborating through different tools, the team becomes solid and buy-in towards agile development is encouraged. Companies can also engage agile ways and methods when testing to ensure that the functionality and requirements of the project/product developments are up to the standard.
·      Give Everyone a Time to Adjust to the Transformation Strategy
Like Rome wasn't made in a day, your company will not transition and make an agile transformation in one day either. Whether C-suite, stakeholders, project managers or support teams, when you move groups of people from a conventional project management based system to a result-based system, it always comes with a learning curve and a potential cultural shift in the company. As an organization, you have already few projects lined up, and it's best to finish them before the adaptation of agile.  Don't try to force buy-in right away, or try to convert every business project into an agile project overnight.
Wrapping-Up the Agile Transformation Journey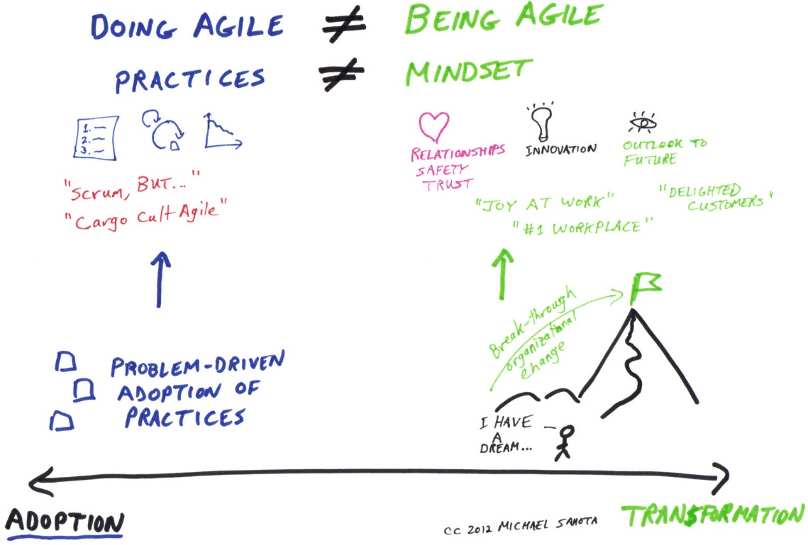 In a nutshell, agile adoption – converting from traditional waterfall methods to agile methodology is not an easy job as a manager or team. This is an essential aspect for any corporation to understand the core's agile concept and then deliver it to their employees in order to develop an agile mindset. Managers/leaders can play their part by encouraging business agility, in turn motivating the entire organization and its teams to become adaptable to change. However, if implemented correctly with the proven tips and right coaching, this methodology can take the organization above the sky like the Dutch banking group example and increase business value in time.
Contact Leadership Tribe to find out more about preparing for Agile Transitions and build your agile transformation roadmap today